Gary Emrich Month of Photography Lecture
This Thursday
Month of Photography Lecture | Gary Emrich
Thursday, March 23, 2017
7:00–8:30 pm

, Doors open at

6:30 pm
A fourth-generation Coloradan, Gary Emrich uses humor and pop-culture iconography to both celebrate and poke fun at the myths of the West in his art. Making what he calls "straight photographs in the studio," Emrich constructs his images from found and collected materials that include family mementos, kitsch objects, and even throw-away packaging. Through his inventive recontextualizations, he addresses deeper concerns like water scarcity, the aerospace industry, and personal memories. Promise, an exhibition of Emrich's recent work in photography and video, was featured at the Colorado Springs Fine Arts Center in 2016.
Image credit:
Gary J. Emrich, Rodeo Clown, 2011. Inkjet print. Denver Art Museum Collection: Gift of Jennifer Doran and Jim Robischon of the Robischon Gallery and an anonymous patron, 2015.307. © Gary Emrich
---
Upcoming lectures:
Thursday, March 30, 2017
7:00–8:30 pm

, Doors open at

6:30 pm
Benjamin Rasmussen grew up in a family of missionaries in rural Philippines and questions of home, community, and identity were endemic to his childhood experience. These human connections have continued to drive his photographic practice. In Down Hernani Shores, Rasmussen documents the destruction and rebuilding of the town of Hernani, Philippines in the wake of Typhoon Haiyan. Combining portraiture and landscape work, along with drawings by the town's children, he reveals the effects of the typhoon on the residents' lives and livelihoods. By the Olive Trees, a collaborative work with Michael Friberg self-published in newspaper format, presents the olive tree as a marker of permanence in a place defined by its tenuousness—the Zaatari Syrian refugee camp in Jordan.
Image credit:
Benjamin Rasmussen, from
By the Olive Trees
, 2015. © Benjamin Rasmussen
---
Save the date: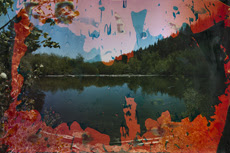 Anderman Photography Lecture Series | Matthew Brandt
Thursday, April 20, 2017
7:00–8:30 pm

, Doors open at

6:30 pm
Hamilton Building - Lower Level
Lecture tickets are $5 for students, DAM members and CPAC members, $12 for general admission.
Matthew Brandt pushes the limits of the photographic medium with physical manipulations of his prints and unusual, even bizarre, material choices like bees, candy, cocaine, and dust. While his work is rooted in process, the choices he makes intricately tie the making of his art to the subjects he depicts.

Brandt uses the inherent instability of photographic materials as a key component of his artwork. In hisLakes and Reservoirs series, he degrades enlarged, snapshot-like photos of lakes by dripping and pouring water collected from these lakes over the surfaces of the prints. The water selectively removes dye layers from the photograph, revealing flowing streaks and blotches of vivid cyan, magenta, and yellow beneath the picture. In Pictures from Wai'anae, Brandt draws on the power of nature to transform his work: the large-scale photographs are shrouded, buried, and unearthed bearing the marks of their time spent in the soil of a family farm in Hawaii.

Please join us to hear Brandt speak on his work and his process.
The Anderman Photography Lecture Series presents talks by the preeminent creators and thinkers in photography today. Series funding is generously provided by Evan and Elizabeth Anderman.

Image Credit: Matthew Brandt, Lost Lake, WY 2, 2013 from Lakes and Reservoirs. ©Matthew Brandt.
---
For additional details, please e-mail photography@denverartmuseum.org
We now have a Facebook page. Find us at www.facebook.com/DAMPhotographyDepartment/