Visiting Artists Lisa Kereszi and Benjamin Donaldson
Public Lectures for Month of Photography
Thursday, March 16, 6:00pm
The Dikeou Collection is thrilled to welcome artists
Lisa Kereszi
and
Benjamin Donaldson
to Denver for free public lectures at
Dikeou Collection, 1615 California St, Suite 515
, on
Thursday, March 16

for Month of Photography
. Kereszi and Donaldson will each give individual presentations, followed by a group conversation with Denver Art Museum's Curator of Photography,
Eric Paddock
. Doors open at
6pm
.
Lisa Kereszi
was born in and grew up in Suburban Philadelphia to a father who ran the family auto junkyard and to a mother who owned an antique shop. In 1995 she graduated from Bard College with a Bachelor of Arts. She teaches photography and is the Director of Undergraduate Studies in Art at the Yale School of Art, where she received her MFA in 2000. Her work is in the collections of the Met, the Whitney Museum of American Art, the New Museum of Contemporary Art, the Brooklyn Museum of Art, and others. She is represented by Yancey Richardson Gallery in New York. Works from Kereszi's series "Facing Addiction: Looking at Drugs and Alcohol in People's Lives" (1994-1997) are on permanent view at Dikeou Collection and were featured in issue 9 of zingmagazine. Her project "The More I Know About Women" is featured in current zingmagazine issue 24. She lives and works near New Haven, Connecticut, where she is raising a toddler.
Benjamin Donaldson
's photographs are in the collection of the Yale University Art Gallery as well as private collections, and he had several solo shows, including: "Mouth of the Hudson" at Jen Bekman Gallery, 2003, "Terrain" at Kimball Union Academy, NH, 2004, "Summerland" at Jen Bekman, 2007, as well as numerous national and international group shows. Publications include Artnews, Details, House and Garden, Newsweek, The New Yorker, The New York Times, Nylon, The Manchester Guardian(UK), The Yale University Literary Magazine, Time Magazine Style, V Man, and W. Commercial clients include Yale University. He was included in Photo District News 30 emerging photographers of 2003, and was a recipient of a Connecticut State Arts Grant in 2008. He has been on the faculty of the School of Visual Arts, the International Center of Photography and Hunter College, CUNY. Donaldson has been Lecturer at the Yale School of Art since 2009, and lives near New Haven, CT. Donaldson's photography project "Priory" has been featured in zingmagazine issue number 20, and was curated by Lisa Kereszi.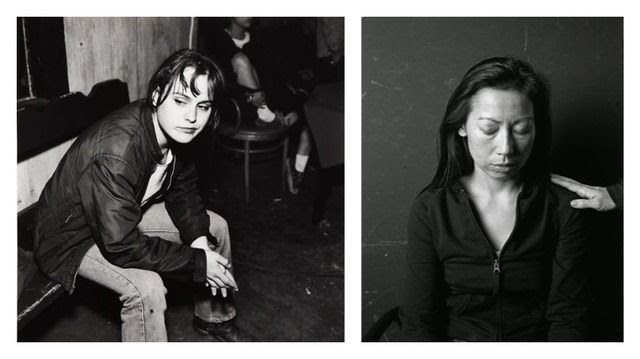 Left: Lisa Kereszi,
Jess at a Party, VT,
1996.
Right: Benjamin Donaldson,
Theresa,
Summerland Series
,
2007.
Eric Paddock was born and raised in Boulder, Colorado. After receiving his B.A. from The Colorado College he traveled, worked a crazy assortment of jobs, and assisted photographer Frank Gohlke over a four year period before entering the MFA program at the Yale School of Art. He was Curator of Photography and Film at the Colorado Historical Society (now History Colorado) from 1982 to 2008; during that time he was actively making and exhibiting his own work, which is held in permanent collections at the Amon Carter Museum, the Bibliothéque Nationale, MoMA, the Smithsonian American Art Museum, SFMOMA and other institutions. At various times, Mr. Paddock has taught photography, art history, American history, and landscape studies at the University of Colorado, The Colorado College, the University of Denver, and Arapahoe Community College. In 2008 he was named Curator of Photography at the Denver Art Museum, in which capacity he has, among other things, curated exhibitions of work by Robert Adams, Laura Letinsky, Kenneth Josephson and Will Wilson as well as group exhibitions of contemporary and historical photography.
Friday, March 10
- Collective Misnomer presents Dreamtime: An Uncanny Wilderness, a solo screening with artist Nika Kaiser IN PERSON at Dikeou Pop-Up: Colfax,
7:30pm
Thursday, March 30
- Dikeou Literary Series organized by Mairead Case at Dikeou Pop-Up: Colfax,
7-9pm
ABOUT THE DIKEOU COLLECTION
The Dikeou Collection is a contemporary art collection in downtown Denver that was established in 1998 by siblings Devon Dikeou and Pany Dikeou. Operating as an extension of New York publication,
zingmagazine
, the Dikeou Collection features work of approximately 30 international artists. Devon Dikeou is an artist herself, the founder, editor, and publisher of
zingmagazine
, as well as a collector. Her interest in the platform of exchange between collector, artist, viewing context - museum, collection, gallery, magazine - and viewer engendered her artistic practice,
zingmagazine
, and the formation of the Dikeou Collection.
The Dikeou Collection
1615 California St
Suite 515
Denver, CO 80202

Dikeou Pop-Up: Colfax
312 E Colfax Ave
Denver, CO 80203
Open Wednesday through Friday
11:00am-5:00pm
and by appointment
Docent tours available upon appointment, cell phone tours always available